Hysterion
250pxpx
Hysterion in ball bearing form.

Series, Code:

Series I, #01019

Spirit Within:

Rogue Battle Warrior

Quest:

Money, Power

Tagline:

"I don't advise you to get close."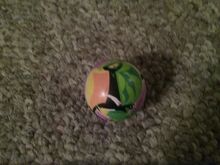 Hysterion is a green and gold bird-like warrior in Dimension 33.
Constantly struggling with his own sense of purpose, the well-armed Hysterion is a rogue battle machine. Because he can be easily swayed and tricked, he holds no loyalty to any side. Convince him that good is evil and he will fight against it. With built-in battle armor, Hysterion is virtually impossible to damage.