Dra-Zard
250pxpx
Dra-Zard in ball bearing form.

Series, Code:

Series I, #01005

Spirit Within:

Kingdom protector

Quest:

Honor, Peace

Tagline:

"Monster roar."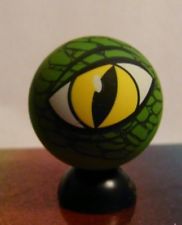 Dra-Zard is a giant green lizard that protects the kingdom of Kha-Rana.
Without the protection of this fierce and fanged sentry, the Dimension 33 kingdom of Kha-Rana would fally prey to any number of invaders. But Dra-Zard's loyalty to the kingdom and single-minded devotion to protecting make it an indispensiple asset. Armed with a powerful bite, sharp claws and whip-tail, Dra-Zard vanquishes all who seek to harm the kingdom.